Family Pendo welcomes you to Dubrovnik!

We are in Mlini, a beautiful, little, picturesque place, situated at the south dalmatian coast nearby Dubrovnik, one of the most desirable destinations in the world. We offer you comfortably equiped accomodations and the chance to escape from daily routine and to enjoy the essence of Mediterranean life: the sun, the clear blue sea and most of all yourself in the middle of it.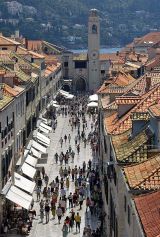 On this web page, we have tried to meet your needs not only presenting our offer in the best possible way but also acting as a touristic information hub.
Should you have any individual requests don't hesitate to contact us, we'll be glad to help.
Before you continue let us thank you for your interest and once again recomend a visit to our city with the words of George Bernard Shaw:

"... those who seek paradise on Earth should come to Dubrovnik and see Dubrovnik."